Taman Tun Sardon
Property Insight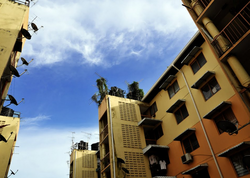 Taman Tun Sardon is a low cost apartment located in the vicinity of Gelugor, Penang. This is a five storey walk-up apartment which was built on a freehold land and developed on 1980s. This residence comes with a total of twenty two low rise blocks. This apartment was built to serve as homes for the lower income citizens.

All the units in Taman Tun Sardon have 550 sf built-up with 2 bedrooms and 1 bathroom. The units are quite cramped up due to the small built-ups and there are also several facilities available in this vicinity to benefit the tenants. Among them are parking bays, restaurants, convenience stores, children's playground and jogging track.

In terms of amenities, Taman Tun Sardon is surrounded by places such as University Sains Malaysia (USM), SK Jelutong Barat, Olympia College, Batu Lancang Market, SK Convent Lane, SK Jalan Hamilton, SMK Haji Zainudin Abidin, Malaysian Buddhist Meditation Centre, SMK Heng Ee, Srigim Medical Centre, Trinity Methodist Church, SJKC Hn Chiang, Pulau Pinang Stadium, Penang International Squash Centre, Badminton International Penang Centre, Phor Thor Temple, Tesco, Excelpolitan International College and Pulau Pinang Teachers Training College.

Moreover, Taman Tun Sardon is located just minutes away from the First Penang Bridge and the Second Penang Bridge is located only slightly further away from this residence. Besides that, this residence is also linked via many main roads such as Jalan Gelugur, Lengkuk Dumbar, Jalan Tungku Kudin, Jalan Masjid Negeri and Jalan Thomas, as well as highways such as Gelugor Highway, Batu Lanchang Highway, Besi Highway and Tun Dr Lim Chong Eu Highway. The Penang International Airport is also located in the neighbouring area, providing domestic and international transportation.


Property Details
Name: Taman Tun Sardon
Address: Jalan Pemancar, 11600 Gelugor, Penang
Completion Date: 1980
Type: Apartment
Tenure: Freehold
No. of Block: 22
No. of Storey: 5
No. of Bedrooms: 2
No. of Bathrooms: 1
Built-up: 550 sf
Subsale Price: From RM80,000
Rental: From RM400
Layouts
Standard
2 bedrooms + 1 bathroom (550 sf)
Facilities
Car parking
Restaurants
Convenience shops
Children's playground
Jogging track
Analysis


Taman Tun Sardon is a high-density apartment located in the vicinity of Penang Island. This residence was built approximately thirty years ago and currently it comes with a subsale price of RM80,000 onwards. Moreover, an auctioned unit would also be priced from RM40,000 or more and most of the units here are occupied by foreigners.

Taman Tun Sardon can also be rented for RM400 or more for a fully furnished unit and is slightly cheaper for an unfurnished unit. Currently, this residence looks aged and poorly maintained. It would be suitable for lower earning citizens in finding a home with lower budget. There are also several similar low cost residences located nearby such as Jelutong Indah, Halaman Sentosa, Bukit Dumbar indah and Villa Mas Ewani.
Location
Share to Social Media