Centrestage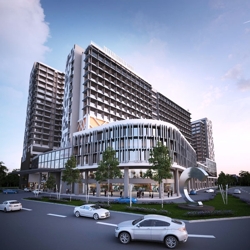 Centrestage is an integrated commercial cum residential development comprising serviced suites, office suites and shop units sited in Section 13, Petaling Jaya. The land of Centrestage was bought from the Wearne Brothers Singapore and the title has been changed from industrial land to commercial. According to the developer, the development will also include a hotel. Centrestage has a gross development value of RM500 million and scheduled to be completed by end-2014. It is sited on the former Eon Service Centre that is sprawling over the 3.66 acres of leasehold land. This integrated development offers 352 units of serviced suites that will be serviced by the Best Western Hotel Group. This development by Cherish Springs is expected for completion by middle of 2014. The office suites at Centrestage are offered within the two 11 and 14-storey corporate office blocks. There are a total of 775 units with sizes ranging from 301sqft to 969sqft. Each office suite comes with one car park. The total gross floor area (GFA) of 446,035 sf with nett lettable area (NFA) of 312,225sf. The retail lots of Centrestage consist of 333 units of 5-storey and 2-storey variants, with GFA of 171,797 sf and NLA of 120,358 sf. The office suites and retail units are launched from over RM700 psf and RM1,100 psf respectively. Centrestage has easy access to the Federal Highway via Jalan Kemajuan, Jalan Semangat and Jalan Utara. It can also be accessed through Sprint Highway. Alternatively, people can opt for the public transportation as Asia Jaya LRT is just nearby. Public buses are aplenty in the area as well.
Property Details
Name: Centrestage
Address: Jalan Kemajuan, Petaling Jaya, Selangor
Developer: Cherish Springs
Completion Date: Mid 2014 (estimate)
Type: Serviced Suite, Office Suite & Retail Shop
Tenure: Leasehold
No. of Blocks: 3
No. of Storey
Office Suite: 11 & 14
Retail Shop: 5
No. of Units: 1,160
Serviced Suite: 352
Office Suite: 775
Retail Shop: 333
No. of Bedrooms: Studio
No. of Bathrooms: 1
Built-up
Office Suite: From 301 sf
Launch Price
Service Suite: From RM388,000.00
Office Suite: From RM268,000.00
Retail Shop: From RM188,000.00
Facilities
Swimming pool
Gymnasium
Landscaped garden
Analysis
One of the major concerns of Centrestage is the density of this development, whereby it comprises a total of 1,160 units over the 3.66 acres land. Plus, the developer has planned a hotel within this development. The drawbacks of the high density are the lacking of privacy as well as traffic congestion at the entrance itself. Besides that, there are over 30 units per floor and served by just 3 lifts. The facilities are concentrated on the hotel block and has to be shared with all the occupants of the 3 blocks of buildings. It is nestled in Section 13, that is surrounded by universities and established residential areas. Other upcoming similar developments in the area include Jaya One Evolution (Phase 3 of Jaya One and Plaza 33 (Phase 2 of Jaya 33). Most buyers and investors of Centrestage claim that the price tags are very steep for investment as it is priced at about RM620 psf to over RM1,100 psf. However, the price is yet affordable as investment starts from about RM200,000 for a bite-sized apartment. Buyers also need to be reminded that the facilities mentioned does not come with the unit, additional fees need to be paid to enjoy the usage. The developer of Centrestage also offers developer interest bearing scheme (DIBS), 5% downpayment, as well as free SPA and legal fees to make the sales package attractive. Lately, there have been several similar developments whereby industrial buildings in the area are converted into commercial developments. Section 13 is seen to be a valuable area for investment due to its strategic location next to the established Section 14 commercial center.
Share to Social Media