Mahsuri Apartment, Setiawangsa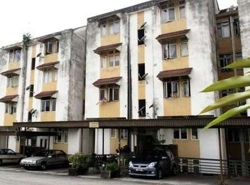 Mahsuri Apartment is a low-cost walk-up apartment located in Setiawangsa, Wangsa Maju. The apartment is established since 1987 and was developed by I&P Bhd. It comprises a few 4-storey blocks that offer units with built-up area of approximately 900 sf. Each unit consists of 3 bedrooms and 2 bathrooms. It is equipped with a small park and children's playground at the center of the apartment.
There are many amenities within walking distance such as the Setiawangsa Business Park which is only 5 minutes walking distance from Mahsuri Apartment and it hosts many amenities such as restaurants and retail outlets. Apart from that, the Setiawangsa Business Suites is situated nearby. There are also restaurants and food courts within 10 minutes walking distance such as Jalan Setiawangsa 11 Yong Tau Foo, Syawal Restaurant and many more.
There is a 'Pasar Tani' (a weekly open wet market) held every Saturday that offers fresh produce and also a wide variety of local delicacies. Mahsuri Apartment is also situated near hypermarkets like Giant Supermarket Setiawangsa which provides much convenience for the residents nearby to do their daily grocery shopping. Various financial institutions are also within walking distance from Mahsuri Apartment such as Maybank and CIMB Bank. There is also a petrol station situated nearby.
Education institutions within range are SK Taman Setiawangsa, SMK Setiawangsa, SR Tun Hussein Onn and SRK Taman Keramat. It is accessible via Persiaran Setiawangsa and Jalan Bukit Setiawangsa. The apartment is within close proximity to access Duta-Ulu Kelang Expresway (DUKE) and Middle Ring Road 2 (MRR2). In addition, Setiawangsa RapidKL LRT Station is just mere minutes of walking.
Property Details
Name: Mahsuri Apartment
Address: Taman Setiawangsa, Wangsa Maju, 53200, Kuala Lumpur
Completion Date: 1987
Developer: I&P Bhd
Type: Apartment
Tenure: Freehold
No. of Blocks: 5
No. of Storey: 4
No. of Bedrooms: 3
No. of Bathrooms: 2
Built-up: 900 sf
Subsale Price: RM200,000-RM468,000
Rental: RM1,000-RM1,700
Facilities
Car park
Market Trends
Mahsuri Apartment, Setiawangsa Average For Sale Price
Analysis
Mahsuri Apartment is the oldest apartment in Taman Setiawangsa and it has become an eye sore to some nearby residents. The neighbors (as well as residents) stated that the management committee of Mahsuri must have run out of budget and thus stopped maintaining the apartment. Some even think that the developer is Taman Setiawangsa, I&P Bhd should help out in maintaining these apartments as it would also be good for the image of the company itself.
More than anything, Mahsuri Apartment needs a good paint job which is long overdue since 1987. Even though the apartment is already run down, it is conveniently located near to an abundance of amenities and also within close proximity to the city centre. It is a good place to stay for those with a tight budget or works in the city centre.