Arte, Kuchai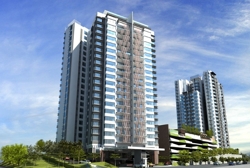 Arte (also known as Arte @ Kuchai Lama) is a new condominium sited in Kuchai. Where art meets living, there are internationally acclaimed works of art such as sculptures and designer pieces from renowned brands like Sculptura and Artemide, that are strategically placed throughout the building. One can expect to find that the development exudes an unrivalled opulence. Arte @ Kuchai Lama is the one and only development in the area with a concept of private lift and private lobby area. One will be able to step off at the respective private lobby area which leads to own unit.
Arte is the first boutique development project where artistic value is instilled into architecture under "The Art Series" and it is developed by the Penang-based Nusmetro Group. This is a name that is synonymous with a commitment to excellence and quality. Over the years, Nusmetro has developed many quality properties that worth more than RM1 billion, with a range from commercial to residential. Most of the development schemes are mainly situated in the states of Selangor, Penang and Sabah. Keeping abreast with the economy, Nusmetro has recently ventured into new developments.
This modern artistic project of Arte comprises two blocks of 22 storeys each, with the units having a built-up area ranging from 1,421 sf and it turns into a living art form with all its aesthetics and functionality; a beautiful canvas anyone can be a part of. There are a total of 254 units available, making it the perfect low-density property that does not scrimp on quality. It has an estimate completion date of 2014.
What constitutes an arty tag? According to the developer, among the factors are a clean design with elements of art incorporated, a unique entrance lobby at both towers, the stylish façade of the car park, the gourmet pavilion and the unsymmetrical garden. Even the podium where the recreational facilities are sited has a unique look about it that stands out from the rest of the crowd.
There are quite a few amenities that are within easy reach of residents at Arte. It provides a multitude of Chinese cuisine, whether sampled at various restaurants or at the many food courts located throughout the area. It has an array of well known banks such as Hong Leong, Maybank and Alliance. As for education, there are institutions to choose from such as the Asia Pacific UCTI and the Institut Latihan Perindustrian. Retail therapy can be gotten from shopping malls such as OUG Plaza, Tesco, Carrefour and The Store.
In terms of accessibility, Arte is just a mere eight kilometers away from the KL City Centre. It is also connected via quite a few major highways such as the New Pantai Expressway (NPE), North - South Highway, Shah Alam KESAS Highway, Middle Ring Road 2, Federal Highway, Jalan Klang Lama, Sungai Besi Highway and KL - Putrajaya MEX Highway.
Property Details
Name: Arte (also known as Arte @ Kuchai Lama)
Address: Jalan 1/116C, Kuchai Entrepreneurs Park, Kuala Lumpur
Developer: Nusmetro Group
Completion Date: July 2015 (estimate)
Type: Condominium
Tenure: Leasehold
No. of Blocks: 2
No. of Storey: 22
No. of Units: 254
No. of Bedrooms: 3
No. of Bathrooms: 3 - 4
Built-up
Type A(a): 2,045 sf
Type B(a): 1,948 sf
Type C(a): 1,496 sf
Type C(b): 1,421 sf
Type D(b): 1,711 sf
Type E(a): 1,733 sf
Launch Price: From RM400 psf
Facilities
Entrance lobby
Car park lots
Unsymmetrical landscaped garden
BBQ area
Futuristic lounge area
Swimming pool
Jacuzzi
Gourmet pavilion
Gymnasium
24 hours security
Analysis
Comparing Arte to the other surrounding condominiums around (including the latest Gembira Residen and See Hoy Chan's Happy Garden Condominium), most of them around the vicinity comprise a few hundred units, such as Gembira Residen's 467 units and Happy Garden's 542 units. However, with just about half of the units built compared to these two condominiums, Arte wins in the density factor.
This would thus allow for residents to be able to fully enjoy the privacy in their own units without having to give up on the beauty of the chic art décors surrounding the home and the being. One would be fully assured of only the best when purchasing this property as not only will there be the prime location near to the city centre and major highways to consider but also the consideration that was put into the building of the structure, with all the attention to details that ensure residents only deserve the best at Arte.
Arte is an artistic masterpiece that not only has the latest avant garde designs within the entire structure and is decorated with works of art from internationally acclaimed designers, the developer also comes with the full dedicated clubhouse facilities such as a swimming pool, jacuzzi, gymnasium, barbecue deck and futuristic lounge area. One's entire well-being will be properly looked after, so there will be no reason to leave the comfort of home.