Taman Palm Grove, Klang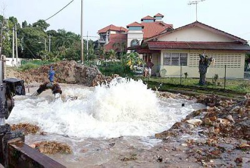 Taman Palm Grove is an established residential neighborhood located right besides Tengku Ampuan Rahimah Hospital (HTAR) in Klang. It neighbors Taman Selatan, Taman Chi Liung and Taman Sri Andalas.
This neighborhood consists of 1 and 2-storey terraces and bungalows. Its 2-storey terrace house has lot size of 20' x 80' and comes with 4+1 bedrooms and 3 bathrooms. The bungalow unit has land area of about 4,275sf and built-up size of about 3,000 sf. It has 5 bedrooms and 3 bathrooms.
Adding to that, there is also a new development in this matured neighborhood. The latest is a 3-storey bungalow development called Sky Villas. This freehold and modern bungalow comprises large built-up size of 6,628 sf and land area of 5,597 sf. It was developed by Wawasan Asli, and was launched from RM2.1 million. It features 3 Jacuzzis and a Sky Deck on the top floor that boasts the neighbourhood views and is suitable for family and friends gathering.
Besides being next to a hospital, Taman Palm Grove is surrounded by aplenty other amenities. Schools located nearby include SRA Taman Sri Andalas, SRK Simpang Lima 1, SRK Simpang Lima 2, La Salle School Klang, Hin Hua High School, SM Teknik Klang, SRJK © Hin Hua and SMK Batu Unjur. In addition, it is also within a stone throw away to Jamek Ar-Rahimiah Mosque and a church (in Taman Chi Liung).
For shopping and groceries, Taman Palm Grove is within close proximity to Giant hypermarket, BBT One Boulevard and Bayu Tinggi Commercial Centre. It is also within 7 minutes driving away to Aeon Bukit Tinggi Shopping Centre that hosts Jusco. It is also accessible via Persiaran Tengku Ampuan Rahimah and Persiaran Raja Muda Musa. Plus, it is about 5 minutes driving away to Teluk Gadong KTM Komuter Station.
Property Details
Name: Taman Palm Grove
Address: 41200 Klang, Selangor
Developer
Sky Villas: Wawasan Asli
Completion Date
Sky Villas: End 2010
Type: Terrace & bungalow
Tenure: Freehold
No. of Storey
Terrace: 1 & 2
Bungalow: 2 & 3
No. of Bedrooms
Terrace: 3 – 4
Bungalow: 5 - 8
No. of Bathrooms
Terrace: 2 – 3
Bungalow: 3 - 7
Built-up
Bungalow: About 3,000 sf
Sky Villas: 6,628 sf
Launch Price
Sky Villas: From RM2.1 million
Subsale Price
1-Storey Terrace: From RM165,000
2-Storey Terrace: From RM230,000
Bungalow: Up to RM1.55 million
Facilities
Field
Playground
Analysis
The residential committee, also known as Persatuan Penduduk Taman Palm Grove Fasa 1 is very active and always fights for the rights of the residents. It is run by mix ethnics – Malays, Chinese and Indians. They have successfully claimed compensation for the residents against SYABAS over the burst pipe incident in November 2010.
From time to time, one may find auction units from Taman Palm Grove at the auction houses. The reserved price for 1-storey terrace houses are about RM160,000.