Metro Villa, Ampang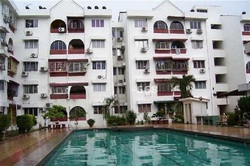 Metro Villa Apartment is a development which is located in the vicinity of Ampang, Selangor. This is a leasehold residence which consists of two blocks, which has 5 storeys each. Located in a highly developing area which has high market value, this residence comes with a single layout which is 820 sf built-up, comprising of 3 bedrooms and 2 bathrooms.
Metro Villa Apartment also comes with several apartment facilities for the convenience of the tenants. This residence also comes with lifts which highly benefits older generations to stay. Among the facilities provided are gymnasium, swimming pool, wading pool, playground, barbecue area and covered parking. Besides, 24-hour security is also arranged to maximise the security together with security guard patrolling.
Furthermore, Metro Villa Apartment is surrounded by amenities namely Plaza Ampang Jaya, Ampang Health Clinic, Ampang Old Folks Home, SK Ampang, Ampang Hospital, SJKC Ong Pong 2, SMK Pandan Mewah, The Store Paragon Point Mall, Puteri Park Plaza, SK Taman Muda, SMK Pandan Indah, MPAJ Hall, Ampang Wet Market, Ampang Sport's Planet, Taman Tasik Ampang Hilir, Royal Selangor Polo Club, Club Darul Ehsan and several embassies.
Metro Villa Apartment is also linked via highways and roads namely Jalan Cahaya, Jalan Mewah, Middle Ring Road 2 (MRR2), Ampang - Kuala Lumpur Elevated Highway (AKLEH), Karak Highway and Duta - Ulu Kelang Expressway (DUKE). Furthermore, Ampang Point MRT is also located in a nearby distance which offers better accessibility for the residents.
Property Details
Name: Metro Villa Apartment
Address: Jalan Cahaya 18, Taman Cahaya, 68000 Ampang, Selangor
Type: Apartment
Tenure: Leasehold
No. of Blocks: 2
No. of Storey: 5
No. of Bedrooms: 3
No. of Bathrooms: 2
Built-up: 820 sf
Subsale Price: From RM225,000
Rental: From RM950
Layouts
Standard (820 sf)
3 bedrooms + 2 bathrooms
Facilities
Gymnasium
Swimming pool
Wading pool
Playground
Lift
Barbecue area
Covered parking
24-hour security
Analysis
Metro Villa Apartment was developed quite some time ago and this residence is located in a highly developed area which is located in Selangor and neighbouring Kuala Lumpur. Currently this residence has a subsale price of over RM225,000 and the monthly rental for this residence exceeds RM950.
Overall, Metro Villa Apartment is a nice place to stay as this residence is maintained well with numerous amenities in nearby distance. Besides, this residence is also located quite closely to Kuala Lumpur, which gives the residence a high market value. There are also numerous high end condominium located in the same vicinity. Yet the biggest issue would be the massive traffic congestion in this vicinity.
More related listing